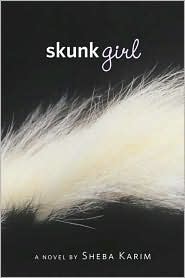 This contest has ended.



Well it's that time again where we happen to snag a few ARCs and we just can't help but share them with you. So now for the second
YAthenaeum Book Giveaway
, we present you with Sheba Karim's debut novel
Skunk
Girl
!

Here's a bit of insight if this is your first time hearing of this fun new book.


"If Nina Khan were to rate herself on the unofficial Pakistani prestige point system – the one she's sure all the aunties and uncles use to determine the most attractive marriage prospects for their children – her scoring might go something like this:


+2 points
for getting excellent grades

–3 points
for failing to live up to expectations set by genius older sister

+4 points
for dutifully obeying parents and never, ever going to parties, no matter how antisocial that makes her seem to everyone at Deer Hook High

–1 point
for harboring secret jealousy of her best friends, who are allowed to date like normal teenagers

+2 points
for never drinking an alcoholic beverage

–10 points
for obsessing about Asher Richelli, who talks to Nina like she's not a freak at all, even though he knows that she has a disturbing line of hair running down her back.

In this wryly funny debut novel, the smart, sassy, and utterly lovable Nina Khan tackles friends, family, and love, and learns that it's possible to embrace two very different cultures – even if things can get a little bit, well,
hairy
."
RULES
Please include your name and a shipping address.

Entry deadline is Monday,

February 16th

7:00 p.m. Eastern

Entrants are limited to 1 entry.

PRIZES
2
contestants will each receive:

1:

Advanced Reader Copy of

Skunk Girl

by Sheba Karim
Winners will be chosen at random on Monday, February 16th at 8:00 p.m. Eastern, and probably announced shortly after that. Good luck to all entrants!


-The YAthenaeum Team