Random:
Libba Bray posted the cover art of her new book

Going Bovine,

which is scheduled to come out later thi

s year, on

her blog.

Cynthia Leitich Smith is having a contest in honor of her new book,

Eternal

, coming out Tuesday. More information is available on

her blog

.

Locus Magazine put up their

2008 Recommended Reading List.

Shannon Hale is giving away an ARC of

The Actor and the Housewife o

n

her blog

.
Books & Books News:
Meg Cabot's event tonight went wonderfully! We'll have a recap up in the next week. Thanks Meg!

On Friday the 13th we have an event that fits perfectly. Michael Buckley, author of The Sisters Grimm will be at Books & Books for a signing at 7pm.
The Fetch

by Laura Whitcomb

Winnie's War

by Jenny Moss

T

rials in Paradise

by Neal R. Rice

Evermore

by Alyson Noel

Promised Virgins: A Novel of Jihad

by Jeffrey Fleishman

Adventurers Wanted: Slathbog's Gold

by M. L. Forman

Mistress Shakespeare

by Karen Harper

Geek Charming

by Robin Palmer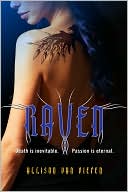 Books that come out this week:
February 10-

The Time of Darkness

by Nikki Jones

February 10-

Shadowed Summer

by Saundra Mitchell

February 10-

Raven

by Allison van Diepen

February 10-

Perpetual Check

by Rich Wallace

February 10-

Percy Jackson: The Demigod Files

by Rick Riordan

February 10-

Miss Match

by Wendy Toliver

February 10-

Meg's Challenge

by Allie Brock Hyatt

February 10-

Friends 'til the End

by ReShonda Tate Billingsley

February 10-

Fade

by Lisa McMann

February 10-

Eternal

by Cynthia Leitich Smith

February 10-

The Clique #10: P.S. I Loathe You

by Lisi Harrison

February 10-

Bloodline

by Katy Moran

February 10-

The Anatomy of Wings

by Karen Foxlee