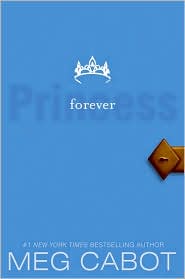 Brought to you by Erika. With comments in Red by Lorena, Brigitte in yellow, and Julie in green.
The afternoon started like most days we have events. The one exception being that was there were a lot more books. Lorena, Brigitte, Julie, and Debra told me to bring them all, so I did. (No I didn't! I told you not to!) I have over 50 of Meg's books, which filled up exactly two of the large Books & Books bags. One of which I had to carry.
Brigitte and I got there a bit after 4:00 and right off the bat got to work. After Debra showed off the crowns we would be using; and we printed quick copies of my, Party Princess menu for the cafe, we went to the West wing to start decorating. While most everyone was doing manual labor Brigitte and I were having a hard time trying to get my glue gun on so we could decorate my plastic shoes & swans for the tables. But right as soon as it started working, Erika called that she was outside and needed help carrying her books to the store.

So, Julie and I arrived about 4:30 and everyone else was already there.
We immediately started decorating. Lorena and Brigitte hot glued pretty flowers in plastic shoes and swans while Julie and I attempted to start with the tulle. (The main word being attempted) Everyone kept passing out table and exclaiming about how cute they looked while I burned my fingers. It was a failed attempt, which led us to start on the podium instead. We then realized we wouldn't have enough to do the whole thing, so we used the blue to make a bow. When I finished the shoes and got the area cleaned up I went over to see how i could help, between my failed attempt and Stephanie's help we managed to create some sort of decent bow thing. Thanks Stephanie for helping!
We finished the bow, had some tulle hanging from the top, and decorated the signing table. That's was probably one of the worst idea we've had. I almost fell over from that footstool getting the tulle over the railing more than once. Getting the tulle to hang was difficult since I'm so short. I stretched and I still couldn't reach so we just tossed it over and hoped for the best. It also got hopelessly tangled.

The chairs were already set up, so we just put some of the paper crowns we got around on random ones.
By then it was already about 5:40 and we had to change. There was also an incident involving not being able to find the YAthenaeum bookmarks [which are still currently M.I.A. and not at the airport (those from Miami will get it)]. Though, I always carry some around and had a small stack in my camera bag.
Julie and I finally decided which dresses we were wearing, thanks to Brigitte and Lorena deciding for us. So while Brigitte and Lorena had to quickly go somewhere, Julie and I changed. Julie into my black dress, and me into Julie's purple dress. Yes it does make perfect sense. Apparently no one in Coral Gables has a copy of the 6th Mediator book. I confess, we committed blasphemy, I was ashamed to wear my Books&Books shirt.

When we were finished, Lorena and Brigitte managed to return and changed themselves. This was more or less an episode of yelling back and forth across the stalls about god knows what.

At about 6:20, Meg walked in and Debra introduced her to us. Debra also warned her about my collection of her books. (But nobody could create a proper warning without it being an understatement)
Then, Meg went to give an interview with a girl from Times for Kids.
We were the greeting team while Lorena put our corsages on. This proved to be a more difficult task than it ought to have been, especially on myself.

A little while later, Debra called us in and Lorena gave her her corsage as an honorary member of the Royal Order of YAthenaeum.
Meg then started signing all my books. (Thanks so much Meg!) She signed every single one. At one point while she was finishing Erika's pile she asked "These are all Erika right?" I was in charge of putting Erika's books back after Meg signed them, since they quickly overwhelmed the table.

While she was signing, we had a short interview with her, which will have up soon enough.
After Meg finished signing all of mine, she signed the rest of ours. Then, she opened the card we made for her. (Thanks Emma for helping me make it!)
After that, we grabbed our cameras and it was time to start.
The room was full… Debra introduced us and then I introduced Meg. (I'm SO sorry for pronouncing your name wrong, Meg, if you're reading this. I realized right after… I was just nervous and had for years thought it was pronounced that way and it grew into a habit I'm trying to break.) Erika just hangs around me too much, I grew to mispronouncing Meg's name and it's stuck to everyone around me. I'm such a bad influence. Why yes, you are. Aside from that, I think I'm getting slightly better with the introductions; I'm not a complete wreck up there anymore. Sure... If it makes you feel better, Erika.
Meg spoke and answered questions. She is amazing! Erika's on the verge of obsession here so don't mind her. Correction: She is obsessing. Ignore the excessive fangirling.

We then went to the other side and began post-it duty. Once we were done, we went and ate chocolate… Most of us anyway, I sat on a stool and moped about not being able to eat chocolate. But you stayed strong and we are all soo proud of you! :D

Eventually, when it was time for stock, I handed to Meg and Debra took away. Meg is an incredibly fast signer; I could barely keep up. I was at first in charge of moving them to the table but we also needed to put Autographed stickers on them so I called Brigitte over to haul them back and forth while I put the stickers on. Becky came eventually and helped me finish the job. We took a few group shots with our assigned book. I didn't know my tiara was tilted so far back. Afterwards, though Meg was probably exhausted, she agreed to do the time warp with us.
The Brians (the DJs) started playing the song and this is what happened: (I was a fail.)
We then said goodbye to Meg and were ourselves exhausted from a great night; it's too bad Princess Mia had to miss it.