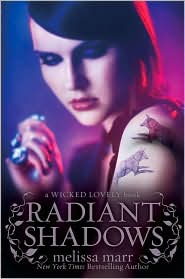 Lorena's Review of
Radiant Shadows
by Melissa Marr


I sometimes feel awkward writing reviews so far away from a book's publication date, but I couldn't help myself, I need to tell you about this book. Wow, I haven't been this excited since
Ink Exchange
was released. For those of you unfamiliar with the Wicked Lovely series, odd numbered books are part of the canon series, while even numbered ones are stand-alone novels in the same universe.
Radiant Shadows
is the fourth book in Melissa Marr's
Wicked Lovely
series.

Forget the troubles of the Summer Court and let yourself be lured to the shadows of the Dark Court. War is on the doorstep of the fairy courts, and their fates might rest in the hands of a Hound and an Assassin.



Synopsis:

"Hunger for nourishment.
Hunger for touch.
Hunger to belong.
Half-human and half-faery, Ani is driven by her hungers.
Those same appetites also attract powerful enemies and uncertain allies, including Devlin. He was created as an assassin and is brother to the faeries' coolly logical High Queen and to her chaotic twin, the embodiment of War. Devlin wants to keep Ani safe from his sisters, knowing that if he fails, he will be the instrument of Ani's death. Ani isn't one to be guarded while others fight battles for her, though. She has the courage to protect herself and the ability to alter Devlin's plans—and his life. The two are drawn together, each with reason to fear the other and to fear for one another. But as they grow closer, a larger threat imperils the whole of Faerie. Will saving the faery realm mean losing each other?"
Review:

One of the biggest things I noticed about
Radiant Shadows
, if not the first, was that it was lighter than
Ink Exchange
. You wouldn't think anything surrounding the Dark Court could be taken in such a manner. But as I closed the cover of the book, I found myself feeling...well...happy. This isn't a feeling I normally associate with the
Wicked Lovely
stand-alones, but it just felt so right. There's such a feeling of triumph and completion to be had when this book is finished, it's just blissful. I couldn't think of a better novel to start the year off with.

I'll take this time to admit it, I'm a sucker for the antihero, and who could be a better candidate for such a character than a man who is the pure embodiment of logic and war. Devlin is such a well crafted character, that throughout the entire novel I wanted nothing more than to understand his point of view. A need to follow his court, his queen, while at the same time controlling his desires and his heart. Following him was an intense ride to say the least.

There is a point I'd like to make out before I go on a rant about how everyone should read
Radiant Shadows
. While it can be read as a stand-alone, I would strongly recommend reading the first three books (
Wicked Lovely, Ink Exchange, and Fragile Eternity
) before picking it up. There are many parts of the story that, while irrelevant to the plot, would just make a lot more sense with the knowledge of the previous novels.

Now to the wicked ones and the lovelies, to the fans of fantasy, to those hopeless romantics, and anyone who is willing. I say to you, read this book. Melissa's intricate fusion of strong characters and amazing storytelling will transport you to a place that's not too far from home, and still feel out of this world.


Radiant Shadows
will be available wherever books are sold April 20th, 2010


You can read Lorena's review of
Fragile Eternity
over on this
post
.