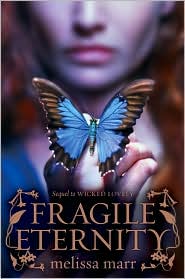 Lorena's Review of
Fragile Eternity
by Melissa Marr


When all odds seem to be against you, and there really seems to be nowhere else to turn. What would you be willing to give for eternity in our lover's arms? Your past, your future, your freedom?

Seth Morgan was never the romantic. He never saw himself spending the rest of his days lounging about with a lover in his arms- until he met Aislinn. Now she's all he thinks about, his new life, and with whom he wishes to spend it with. But what's one lifetime to the immortal queen of the summer faeries.

Taking place shortly after the events of
Wicked Lovely
and
Ink Exchange
,
Fragile Eternity
weaves the tales of Faery through the eyes of Seth. The Summer court, now renewed with a Summer Queen, is experiencing a surge of power that had been lost through nine centuries of searching. And with Summer quickly approaching, it seems to be getting harder and harder for Seth's relationship with Aislinn to hold out to her lusting for her Summer King, Keenan. But while she tries to ignore it, it becomes clearer everyday. Seth is mortal, time will pass her by in the blink of an eye, and he will die. It's all a matter of time.

But Seth wants more than a lifetime, he wants eternity.

It's been over a year since the release of Melissa Marr's
Ink Exchance
, and fans, at least where I am concered, have all been anxious for this novel, and it doesn't dissapoint. I'll admit, I've never been a big fan of Seth, and actually I've never understood why myself. But after reading
Fragile Eterniry
... it was like seeing him for the first time. In the likes of getting off to a rocky start with someone, and introducing yourself again. He's such a fragile character, so anxious to protect his lover, to help his friends. And I think that now, I get him, his character's open to me. Through
Fragile Eternity
we get a new light on the courts, and the turmoil they are in. War is at their doorstep, and it all seems to dangle on the thread of Seth's life.

How could one mortal be the catalyst for a possible faery war? You'll have to read it to find out.