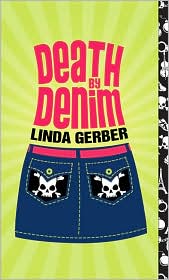 This contest has ended.
We couldn't go a day without a contest. So now that our others have ended, a new one shall begin!
Linda Gerber

was generous enough to give us 3 signed copies of her new book
Death by Denim
to give away and that's what we're going to do!
Here's a little bit about the book:
"Aphra Connolly is being chased by some very dangerous people. She knows her survival depends upon staying far away from love interest Seth, and listening to her mom's lectures on the finer points of anonymity and survival. But how is a girl supposed to live under the radar and not think about her boyfriend when she's in Paris—the most romantic city in the world? When her mom's contact in Paris is found floating in the Seine with a deadly message stuffed in his mouth, Aphra realizes that she will never be able to stop running unless she confronts the situation head-on. Sneaking away from her mom, Aphra tracks down the criminal mastermind in Italy, only to unwittingly reveal Seth's location. And her mistake has just put them both in mortal danger. . . . "
Leave a comment on this post or send

an e-mail to ya

thenaeum@yahoo.com (with the subject as "Death by Denim Giveaway")

Please include your name and e-mail address and which of the ways you are entering. (Provide the links and other information if applicable.)

Entry deadline is

July 24th

at 6:00 p.m. Eastern.

Each entrant can only win one book, in the event the same name is drawn twice, another name will be drawn.
WAYS TO EARN ENTRIES
- The more you do, the more chances to win.
+1= For just e-mailing or commenting.
+1= For writing a haiku as to why you want to win
Death by Denim
.
+1= For linking to this contest (provide link).
+1= For becoming a fan of
YAthenaeum on Facebook
(Make sure we can identify that you became a fan, write on
the wall or if it's under the same name as the one provided that
will work as well.)
+1= For adding YAthenaeum to your blogroll (provide link).

PRIZES
3
contestants will each receive:
1:

Signed copy of

Death

by Denim

by Linda Gerber
Thanks again Linda for giving us the copies! Good luck to all entrants!