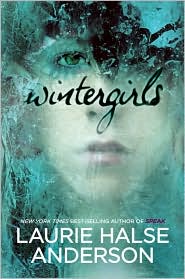 With the publication of Laurie Halse Anderson's highly anticipated new novel
Wintergirls
today
, we bring you news, reviews and everything you need to know about this fantastic new novel.

In case you missed it, back in January, we had a short Q&A with Laurie herself. You can read that
here
, along with a review of her novel
C
h
a
i
n
s
.



Lorena's
Wintergirls
Review:


Teenagers of my generation, of all generations, are troubled. We all strive to achieve whatever standards we believe society wants us to abide by, no matter what the cost. So in this society in which we are rewarded for being thin, many of us take whatever means needed to become the thinnest branches of the tree. I myself, never understood people's need for this "perfection". I never found a good enough reason to give up my happiness for the sake of pleasing others, I never saw why. Until Laurie Halse Anderson decided to get inside Lia's head, and share her story with the world through her new novel,
Wintergirls
.

Now I'll give a warning well ahead of time. This book is a difficult read, it's a painfully beautiful story that not everyone will be able to handle. I had to put it down so I wouldn't stain the pages when I cried.

Six years ago Lia and her best friend Cassie made a promise to be the skinniest girls in school.
Six months ago Lia and Cassie no longer spoke to each other after being sent to rehab.
Six hours ago Cassie's body was found in a hotel room, alone...

Now, haunted by the memory of Cassie, Lia's already dangerous habits of starvation are treading in treacherous waters. Her family thinks she's improving, but she's just fooling them, rigging the scales, throwing away food. Cassie's death only sent Lia deeper and deeper into her whirlpool of self destruction.


Wintergirls
is probably one of Anderson's most painful novels since
Speak
. As enchanting as its lyrical prose may be, it can't mask the truth of the words written. Sharing not only Lia's determination to be thin, but her desire for indulgence. Any food consumed is given a calorie count, any stray thought of
eating
must not eat, is scratched out and replaced with the strong will of a girl who is dying, to be thin.

So who would I recommend this to? Anyone who's been in such a low state that they felt they'd never make it out. Anyone who's ever had a doubt in what they can achieve.
Wintergirls
is more than just the tale of another anorexic teenager. It's the tale of one girls fall into self destruction, and her painful climb to recovery. A novel easily recommend to anyone, to you, your neighbor, your cat even, considering it can read. Do what you must, but this novel must not be missed.




Along with the release of
Wintergirls
, Anderson's world acclaimed novel
Speak
will be celebrating it's 10th year in publication with a 10th Anniversary Edition of the novel. For this, Anderson has written a poem to honor the thousands of letters she has received over the years from readers.

But that's not all, for our local readers we have a pleasant surprise (though you might already know).

Come April 2nd, Laurie herself will be visiting us here in Miami, FL as part of her
Wintergirls
Tour! The event will be held at none other than Books & Books in Coral Gables.
And in honor of her
Speak
poem and April being National Poetry Month, we thought the event would be perfect with a Speak Up Poetry Slam theme, which is what it will be! This now brings us to our next order of business, a contest.

Just when you thought this post couldn't get any longer.

.:Rules:.

Write a poem inspired by

Speak, Wintergirls

or any other topic of your choosing. (Pretend you're in a PG-13 movie when you're thinking about language, please)


E-mail you poem to yathenaeum@yahoo.com

Be sure to include your name.

Deadline: March 30th at 6p.m. Eastern Time
.:Prizes:.

3 Contestants will receive:

1: Signed copy of

Wintergirls

by Laurie Halse Anderson.

A guaranteed reading of their poem read at the Laurie Halse Anderson event.

(If you don't win, feel free to bring your poem to the event to read. Though we can't guarantee their will be time for all poems to be read.)

Winners will be picked by us on Monday, March 30th, and announced later that evening.


-The YAthenaeum Team