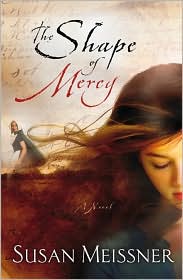 Brigitte's review of
The Shape of Mercy
by Susan Meissner


If you want a light, fluffy read or a book that won't challenge previous moral and social beliefs, then skip this book. Thinly disguised as a novel about the Salem Witch Trials,
The Shape of Mercy
follows the life of rich college girl Lauren Durough as she struggles against her family's wishes to find her place.

All Lauren ever wanted to do was to free herself from the image of a spoiled rich kid. Her solution? To rebel against her parents and accept a job that her father would frown upon. Her task, given to her by an old woman whose sadness is visible to everyone, is to translate a journal penned by a girl who was accused of being a witch in the late 1600s.

This book reflects over the impulsive judging, even if unintended, of people and provides an insightful look at the human mind. Throughout the book, the growth of main character Lauren is visibly noted as she matures from a naive child to a perceptive adult with the help of the diary written by a doomed girl.
The Shape of Mercy
, with its dual plot and storyline is sure to entrap you in Lauren's world as she tries to break free from imposed perceptions and learns to see the people behind the facade.