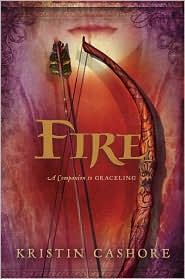 Lorena's review of
Fire
by Kristin Cashore


Back in 2008 when a friend brought me an ARC of
Graceling
, I had no idea what I was getting myself into, this new world of the Seven Kingdoms with new people I knew nothing about. I'm not sure what it was that hit me, but by the time I was done turning the last page, there was nothing I wanted more than to immerse myself in the world of the gracelings a become a part of their story.

Now, far beyond the mountains, across Grella's Pass, a new story unfolds for me.

In the hills of the Dells there is rumored to live a woman so beautiful, that the mere sight of her will cost you not only your free will, but your entire being. Fire, a seventeen-year-old woman, has the power to read and control minds, she is the last of her kind, the human monster. Her father, a human monster much like herself, was a man both feared, and adored. He taught Fire to control her powers, to make men kneel before her. A power that she never wanted. Now the Dells are riddled with war, they have become a land where enemy spies may lurk behind any corner. So when Prince Brigan comes to beg for Fire's help, she'll realize there's more at stake than the secrets of the innocent, but the fate of the kingdom as well.

This book it just, wow, I can't even begin to describe how much I loved reading it. It's the perfect mix of joy, sadness, despair, and love, that when put together create this amazing character named Fire. She is perfect in every way possible, and that, is her sin. If you enjoyed
Graceling
, you will NOT want to miss this. I'll admit, I was a little sad that the story didn't touch up on Katsa or Po. But, though it's only a companion novel to the original story, it does share a key character to both stories. Goes to show how much one man can change the world. I've thought it over all summer, and in all honesty, I can't pick which one I like best. I just know that Fire has so much going for it, the drama, the inner demons, the romance! Amazing? No. Beautiful? Perhaps. There just aren't any words that can accurately describe just how much I enjoyed this book.


Fire
really does have something for everybody. To fans of action, romance, and mystery alike, this book is just waiting to fall into your hands.




You can read Lorena's review of
Graceling
over on this
post
.

Now on to the fun stuff.

This upcoming Sunday, Kristin Cashore will be, pardon the pun, gracing Books & Books with her presence. So, why not build up a little hype with a giveaway!

Sorry, once again, this will only be open to those who can attend the event to pick up their prize.


:Rules:.

Tell us, if you could have a grace, what would it be, and why?



E-mail your answer to YAthenaeum@yahoo.com or comment below.


Be sure to include your name.

You must be present at the event to claim your prize.


Deadline: October 11th at 9a.m. Eastern Time
.:Ways to Enter:.

+1:

Comment or e-mail with your ideal grace.

+1: Link this contest to your blog, facebook, twitter, etc. Each link is a separate entry, but make sure you give us each to receive credit.

+1: Attending the signing. Book will be raffled at the event.
.:Prizes:.

1 Contestant will receive:

(1) Signed copy of

Fire

by Kristin Cashore
Good luck, and hope to see you all there!