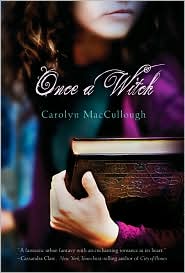 In honor of the release of
Once a Witch
, we were kindly given a signed copy to give away to one of you! Trust us, this is one you won't want to miss.
If you want to find out more about the book, stay tuned for our review later in the week. Until then, you can go to
the book's site here
.
The Rules:
Make sure to include your name and e-mail in your comment.

Deadline is September 28th at 6pm est.
+1:
Comment or e-mail with your ideal magical power.
+1: Link this contest to your blog, facebook, twitter, etc. Each link is a separate entry, but make sure you give us each to receive credit.
The Prize:
1 Entrant will receive:
(1) Signed copy of
Once a Witch
by Carolyn MacCullough.