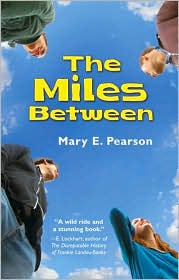 Erika's review of
The Miles Between
by Mary E. Pearson


So, I started writing this review on a plane, which for those who have read the book will find the irony in that.


The Miles Between
is one of those books that if I say too much about will completely spoil everything. I can tell you it's about a girl named Destiny who feels betrayed by her parents, does not want to get attached to anything, and feels that everything goes wrong on October 19. This October 19th however is different. This day takes Destiny on a road-trip that gives her friendship, adventure, and helps her to expose herself.

There are fantastical elements along with realistic. It has just enough to make you believe which is in a sense the moral of the book itself. It plays with the question of if coincidences exist and also what is reality. It's not only this that makes the story so strong and heart-wrenching, but the twists and turns as a whole that the road-trip takes you on.
The Miles Between
is filled with so much emotion that it has the ability to make you laugh on one page while cry a few later.

Those who are not completely into realistic fiction may love this as much as those who do. If you want to go on a wonderful trip inside a book, pick
The Miles Between
up now; I highly recommend you do.