(Note: So you may have noticed we didn't have one last week and we're sorry. There were exams all this week and Erika got back home from ISEF at 11 last Saturday after a week of being away. So instead we give you an extra long two weeks in YA this week.)
New Book Sites/Section on Sites/Excerpts:
Sarah Dessen posted her

tour dates

for

Along for the Ride

. (We can't wait for June 26!)

Claudia Gray posted her

upcoming appearances

on her blog.

Ally Carter put up her

Don't Judge a Girl by her Cover

tour dates

.
Books that came out last week:
City Boy

by Jan Michael

After the Moment

by Garret Freymann-Weyr

You Are Here

by Jennifer E. Smith

New World

by Chris Priestley

It's a Curl Thing (Divine & Friends)

by Jacquelin Thomas

How To Get Famous

by Pete Johnson

The Geek Girl's Guide to Cheerleading

by Charity Tahmaseb and Darcy Vance

Bad Company

by Mike Walker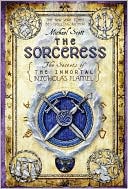 Books that come out this week:

May 26-

Undercover

by Beth Kephart

May 26-

Gorgeous

by Rachel Vail

May 26-

The Deep

by Helen Dunmore

May 26-

Love You Hate You Miss You

by Elizabeth Scott

May 26-

Vacations from Hell

by Libba Bray, Cassandra Clare, Claudia Gray, Maureen Johnson, and Sarah Mlynowski

May 26-

Fortune Cookie

by Heather Wood

May 26-

Sprout

by Dale Peck

May 26-

The Sorceress

by Michael Scott

May 26-

Slept Away

by Julie Kraut

May 26-

See No Evil

by Jamila Gavin

May 26-

Peril on the Sea

by Michael Cadnum

May 26-

One Lonely Degree

by C. K. Kelly Martin

May 26-

Nation

by Terry Pratchett

May 26-

Killer Pizza

by Greg Taylor



-The YAthenaeum Team