Note Since many authors are at BEA and have been since Thursday this constituted for the lack of news this week...

Join Laurie Halse Anderson's

BEA pout-a-thon party

all weekend, if you missed out like her (and us) on getting to go to BEA.


Mitali Perkins and a few others are

having an event

Sunday, May 31st in the Boston area for those in the area that did not go to BEA.

Carrie Jones

posted some advice

about going to BEA and what happened to her...
Random: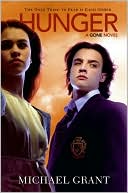 Books that came out last week:
Hunger: A Gone Novel

by Michael Grant

Undercove

r

by Beth Kephart

The Deep

by Helen Dunmore

Love You Hate You Miss You

by Elizabeth Scott

Vacations from Hell

by Libba Bray, Cassandra Clare, Claudia Gray, Maureen Johnson, and Sarah Mlynowski

Fortune Cookie

by Heather Wood

The Sorceress

by Michael Scott

Slept Away

by Julie Kraut

See No Evil

by Jamila Gavin

Peril on the Sea

by Michael Cadnum

One Lonely Degree

by C. K. Kelly Martin

Nation

by Terry Pratchett

Killer Pizza

by Greg Taylor
June 1- Twenty Boy Summer

by Sarah Ockler

June 1-

Sheep Can't Fly

by The Students of Garfield High School, Father Greg Boyle S.J., and 826LA

June 1-

Sea Change

by Aimee Friedman

June 1-

The It Girl #8: Adored

by Cecily von Ziegesar

June 1-

I don't know what I want but I want to be happy

by Kimberly Kirberger and Jesse Kirberger

June 1- 

Desiderata

by Judy Ferro

June 1-

Deal With It (Kimani Tru)

by Monica McKayhan

June 2-

The Waters & the Wild

by Francesca Lia Block

June 2-

Someone Like Summer

by M. E. Kerr

June 2-

Beautiful World

by Anastasia Hollings

June 2-

Lunatic (The Lost Books)

by Ted Dekker and Kaci Hill

June 2-

Intensely Alice

by Phyllis Reynolds Naylor

June 2-

Girl Stays in the Picture

by Melissa de la Cruz

June 2-

Entr@pment: A High School Comedy in Chat

by M. Spooner

June 2-

Elyon (The Lost Books)

by Ted Dekker and Kaci Hill

June 2-

The Diamond Secret (Once Upon a Time)

by Suzanne Weyn

June 2-

The Demon's Lexicon

by Sarah Rees Brennan

June 2-

Carpe Corpus (Morganville Vampires, Book 6)

by Rachel Caine

June 2-

Beautiful Disaster (Privilege)

by Kate Brian and Andrea C Uva