Random:
Sarah Rees Brennan put up her

April cookie

(a small excerpt of

The Demon's Lexicon)

on her blog.

Heather Brewer posted

ten things about

Tenth Grade Bleeds

, the next book in the Chronicles of Vladimir Tod which comes out in July, on her blog.

Cassandra Clare posted

the big answer

post for answers to questions she's gotten about

City of Glass

. There are spoilers, so be careful.


Claudia Gray

posted

the

Evernight

series' international release dates she knows of as well as the U.S. release dates for the next two books.

Contests:
Linda Gerber is having a contest for a basket of books and more in her Death by Denim contest. Details on the bottom of

this post

. Also, her Freebie Friday (deadline Tuesday) is a signed copy of

Fade

by Lisa McMann. Details

here

.

Elizabeth Scott is having an Out of This World Contest where you can win a star, literally, in honor of her new book

Something, Maybe

. More details on her blog

here

.
Covers: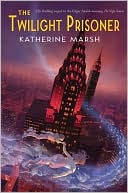 Books that
came out last week:
Cashay by Margaret McMullan

King of the Screwups by K. L. Going

My Big Nose & Other Natural Disasters by Sydney Salter

The Twilight Prisoner by Katherine Marsh

The Stoneheart Trilogy, Book Three: Silvertongue by Charlie Fletcher

The Secret Life of Prince Charming by Deb Caletti

Pure by Terra Elan McVoy

Amy by Any Other Name by Maureen Garvie

The Young Bond Series, Book Four: Hurricane Gold by Charlie Higson

Night World No. 3: Huntress, Black Dawn, Witchlight by L.J. Smith
April 14- Swim the Fly by Don Calame


April 14- The Silver Casket by Chris Mould

April 14- Hoppergrass by Chris Carlton Brown

April 14- Fortune's Folly by Deva Fagan

April 14- The Diamonds by Ted Michael

April 14- The Castle on Deadman's Island by Curtis Parkinson

April 14- Bloodhound by Tamora Pierce

April 14- The Battle for Duncragglin by Andrew H. Vanderwal

April 15- Thirteenth Child by Patricia C. Wrede

April 15- A Novel Of The Titanic by Suzanne Weyn

April 15- A Map Of The Known World by Lisa Ann Sandell

April 15- Pieces Of Me by Toni De Palma

April 15- If You Live Like Me by Lori Weber

April 15- The Boy Kelsey by Alfred Silver

April 16- TMI by Sarah Quigley

April 16- Star Power by Zoey Dean

April 16- Breaking Up Is Hard to Do by Anne Dayton and May Vanderbilt

April 16- Heartbreak River by Tricia Mills

April 16- Because I am Furniture by Thalia Chaltas

April 16- Avatar by Paul Bryers