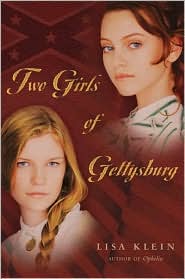 Julie's Review of Two Girls of Gettysburg by Lisa Klein
Lisa Klein has done it again. Three years after the release her award winning debut novel Ophelia, Klein's second novel for young adults made its way onto shelves and is sure not to disappoint. Two Girls of Gettysburg is about two cousins, Lizzie and Rosanna who find themselves torn between sides when the Civil War breaks out. Lizzie remains loyal to the Union with her family's struggling business and her father and brother fighting for the North, while Rosanna is swept away in the traditions of the Confederacy, and her love for a Confederate soldier. Even though the two are separate physically and in their separate views, they attempt to keep in contact, but it proves too difficult for them both.
Two Girls of Gettysburg is filled with love, action, and tragedy that will leave you unable to put it down. The characters are very real with very intense feelings that make the reader fall in love with them. Furthermore, the historic accuracy in this book is phenomenal. Klein does not beautify the war but tells how it truly was, and in the authors note you learn that many of the characters were based on real people. Two Girls of Gettysburg will leave readers hungry for more.