In honor of the release of

Parties & Potions

by Sarah Mlynowski today, we have a special post.
A Short Q&A With Sarah herself!:
Who pwns everything?
I'll admit I had no idea what this meant until you guys kindly explained it to me. (Apparently I am now on the wrong side of thirty.) Anyway, the answer is Lauren Myracle! She writes awesome books, she's a terrific mom, she's the most kind-hearted and generous person I've ever met, she loves to buy her friends gifts, and she manages to keep a seriously funny blog (that often include video of her superimposing John Green's face over inappropriate images.)

If someone suddenly threw a wad of twenty thousand dollars at you, how would you respond?


By saying thank you. And possibly curtseying. It seems curtsey appropriate.



If 'they' decided to make a movie of your life, which actress would you want to play you?
Rachel McAdams. Because she's Canadian like me! Who else is Canadian?
Wayne Gretsky, Alex Trebec and the Barenaked Ladies. Fine, they can be in my movie too.
What's the most random question you can think of? Answer it.


Do you have any weird allergies?

Why yes. My teeth get itchy when I eat pineapple.



Can you do the Time Warp again?


Obviously.




Which character in the Magic in Manhattan series is the most like you? (Or what parts of the characters if it's a mix?)


I'd love to say that I'm a mix of Miri and Rachel, but I'm all Rachel all the time. I should probably be embarrassed about that, eh? (Us Canadians say 'eh' instead of 'huh'. If you already knew that, then you too might be eligible to be in my movie!)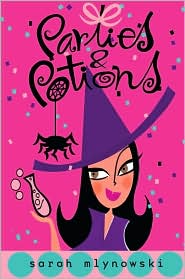 Erika's Parties & Potions review:


Parties & Potions is the fourth book in the Magic in Manhattan series and one you don't want to miss. The entire series is about a girl named Rachel who finds out her sister, Miri, is a witch in the first book. Her mother was a witch, but turned away from the witch community and never even told her ex-husband about it. Through the entire series magical spells and occurrances showed their consequences.


In the fourth book, Rachel has finally gotten her own powers and her sister is begging her to attend witch school with her in order to have their own Samsorta. A Samsorta is basically a witch coming out party for girls and takes place on Halloween. So, the entire book is them getting ready for this event as well as everything that happens in the meantime. There are guys, Simsortas (the boy version of a Samsorta) on the top of Eiffel Tower, and skiing on school nights. It's an extremely enjoyable book that you won't want to miss. If you're already a fan of Rachel, then you definitely need to continue reading about her life with this book. And if you're not already a fan and are up for an entertaining series, you should read them and become a fan. They'll be times when you'll want scream at Rachel and other times when you want to hug her and Miri both. Sarah's writing is humorous as well as serious in all the right parts. It's a book most will have a pleasure reading.


Here's the winning Kirkus Review teen book award video by Ben Cox for
Parties & Potions
:
And on top of that Sarah will be at the Books & Books in Bal Harbour in less than a week for the official launch party for Parties & Potions!
We're also encouraging if everyone could wear formal clothes as in a real Samsorta. However, this is by no means required, so just as long as you come is great to us.