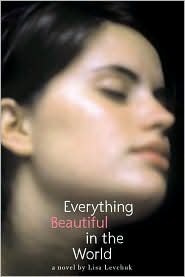 Emily's Review of
Everything Beautiful in the World
by Lisa Levchuk

So, I have to start this review with a bit of a disclaimer. I ran across this book at the bookstore the other day and it caught my attention because my tennis coach/English teacher in high school had the same name as the author. It seemed like a strange coincidence. I did a little bit of investigating and as it turns out, they are one in the same! Of course, once I found out this connection, I snapped up the book and began to read.


Everything Beautiful in the World
is a first-person narrative that follows Edna, a seventeen-year-old high school student as navigates school, her mother's hospitalization, her distant father, and her own, increasingly complicated relationship with her male ceramics teacher. The author treats these tough subjects with a complexity and emotional range that is rare in young adult fiction. The book does contain descriptions of some mature situations as Edna and Mr. Howland's relationship progresses, but those moments are neither graphic nor glorified.

Everything Beautiful in the World is much more about Edna's struggle to understand who she is and where she belongs with the world, rather than a teacher/student romance.

This is a touching and emotional book and one that I highly recommend!