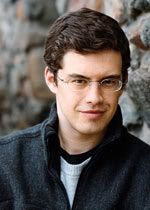 Christopher Paolini!
Yes, you read that correctly…. Christopher Paolini, the author of Eragon, Eldest, and now the newest book in the Inheritance Cycle, Brisingr! He'll be in the Miami area, this Friday, September 26th at 7:00 at:
The Lincoln Theatre
541 Lincoln Road
Miami Beach, FL 33139
From The Books & Books website:
"Oaths are sworn . . . loyalties are tested . . . forces will collide. This evening, internationally bestselling author Christopher Paolini introduces his legion of fans to Brisingr (Knopf, $27.50), the much-anticipated third book in the Inheritance Cycle, which began in 2003 with Eragon, Paolini's literary debut. The story of fifteen-year-old Eragon – the farm boy turned Dragon Rider – has captivated millions and became a worldwide phenomenon when Eldest was published in 2005. In Brisingr, Eragon is once again the greatest hope to rid the Empire of tyranny. Following the colossal battle against the Empire's warriors on the Burning Plains, Eragon and his dragon, Saphira, have narrowly escaped with their lives. Still there is more at hand for the Rider and his dragon, as Eragon finds himself bound by a tangle of promises he may not be able to keep. Can this once-simple farm boy unite the rebel forces and defeat the king? This event is presented in collaboration with The New World Symphony. You will receive two free tickets with the purchase of Brisingr from any Books & Books location."
There will be copies of Brisingr sold at the event. So, if you cannot buy it ahead of time to receive tickets, don't worry, you can get them there. Can't wait to see everyone!
If you do not live anywhere near Miami and you have questions you'd always been dying to ask Christopher, leave them in the comments or e-mail us!
On a side note: We'd like to congratulate Lorena on winning Melissa Marr's art contest!!! We've always known she was awesome; just look at our incredible banner! Congrats to all the other winners as well!
So, leave questions for Christopher and stay tuned; we have a special post in the works for Friday!
-The YAthenaeum Team